Cladding System of the future for Masons of the future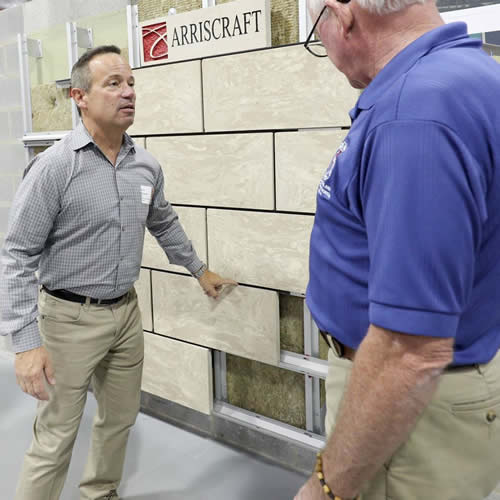 The International Masonry Institute (IMI) provides training, certifications and continuing education programs to the members of the International Union of Bricklayers and Allied Craftworkers. They have recently added four training mockup installations for Arriscraft, Dekton Ultra-compact surface and Natural Kerfed Stone cladding, all utilizing the Gridworx mounting System.
This IMI "Rain screen walls and rain screen systems program" investigates the building science and evolution of the masonry wall beginning with mass walls, drainage, and cavity walls and concluding with pressurized and non-pressurized rain screen systems. Attendees to this program will learn specific details of common panel systems operating as a rain screen. The use of Ultra-compact surface, terracotta and porcelain in architecture and its application to screen walls also will be discussed. Participants will learn systems and techniques for a successful installation using screen wall technology and constructible details.
The hands-on training on these new mockup walls will demonstrate the installation that is required when the rain screen system is applied. Aspects of natural kerfed stone and undercut mounted cladding with the Gridworx Ultra and GridPlanx mechanical kerf rotational engagement systems insures that the masons of the future are augmenting their education with this modern cladding system. The mockups feature open-joint aesthetic with thermally broken adjustable girts and continuous insulation.
Today's educators showcase materials, services and products to educate the design community on the beauty, constructability and the longevity of masonry. How to accomplish these goals is certainly no simple task, but the The International Masonry Institute has taken enormous steps. They are training the masons of the future on the cladding system of the future. For that,they have our thanks.